How To Choose A Dress Form for the Perfect Fit
From Dritz, which makes the best dress forms, here's what they say about how to choose the perfect dress form for you. 
When purchasing a dress form, consider size so that the form closely matches your measurements and features, such as hem markers, off-set poles for fitting pants, and shoulder to floor height measurement.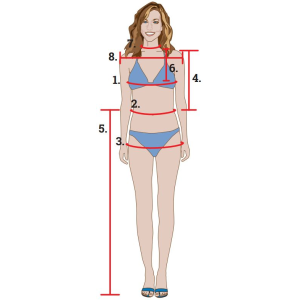 How to Choose a Dress Form
Dritz dress forms are adjustable so you can personalize the form to match your own measurements. We have three different styles of dress forms for women, one form for a man and one for a young child (male or female). Each has different shapes and features.
Take Your Body Measurements
1. Measure chest over the fullest part.
2. Measure natural waist – the area where your waistband most comfortably sits.
3. Take hip measurement 7"-9" below the waistline. This should be the widest part of your hip area.
4. Measure back waist length from neck to natural waist.
5. Measure from waist to the floor. Add this to the back waist length to find the height from neck to floor.
6. Measure from the shoulder to the center of the chest (women).
7. Measure around the base of neck.
8. Measure the shoulder across the back from side to side.
Measurement Tips

Wear the type of shoes and undergarments you would normally wear while taking measurements.  
It is easiest to have a friend assist you.  
For each measurement, the tape should be snug but not tight.  
Choose a form that matches or is slightly smaller than your measurements — you can always pad to fit, but you can't subtract inches from the smallest dimension.
What is a Dress Form?
A dress form is an integral part of the sewing process. It is a shaped form that mimics your own body measurements. Use it to pin on pattern pieces, test-fit seams during construction or to drape and design a garment. Fashion is easier to create and fit when the garment is in front of you!